A month into the NBA season and the NBA's young talent and potential future stars are already impressing. From known names that are living up to the hype to others that have risen from the cracks and started to make some noise, it is safe to say that as of right now the rookie of the year race will be a fun one to keep track of as the season rolls along.
Dennis Smith Jr. – G Dallas Mavericks
The one the Knicks missed. Dennis Smith Jr. is one high flyer, making highlight plays in every game. Even opened up Lebron's eyes saying "he should be a knick…they missed a
good one." When you are a rookie and The King talks about you like that, you must be doing something right. Right now he is averaging 15.8 points 4.2 rebounds and 4.7 assists per game. Those are impressive numbers even if those numbers haven't translated to wins for the Mavs. The Mavs definitely have a piece to build around and it is Dennis Smith Jr.
The wait was definitely worth it. Just like his teammate Joel Embiid, Simmons had to miss his entire first season due to injury. Now he is fully healthy and putting his mark on the league. At first, people wondered how effective he would really be with his inability
to shoot consistently. He silenced those critics really quick by inviting them to his own personal dunk party. He is dunking on everyone but that is not the only thing he can do. He has the ability to be a playmaker. Simmons is 6'10 and can run the floor like any point guard in the league. That is terrifying. He currently leads all rookies in points(17.8) rebounds(9.2) and assists(7.7) and to go along with that he is averaging 1.9 steals per game and already has two triple-doubles to his name. Not to mention the near triple-double he had against the Lakers.
Kyle Kuzma F Los Angeles Lakers
Usually, late round picks don't really get to show off their skills for the team they get drafted to. It was twice as hard for Kuzma due to the team already having Julius Randle,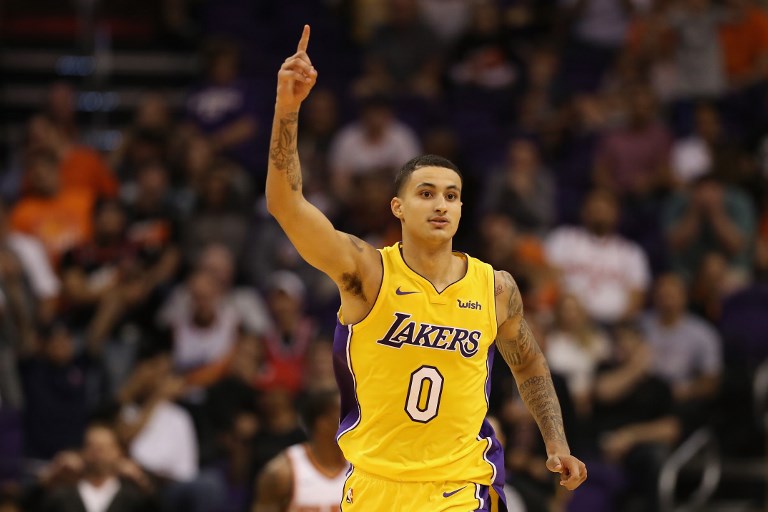 Larry Nance Jr. and Brook Lopez taking up a good portion of the minutes in the frontcourt. But once Kuzma stepped onto the court in the summer league he has yet to turn
back. He is currently averaging 15.1 points and 6.8 rebounds while shooting 50% from the field. He has played his way into getting some big minutes. His footwork and old school like post moves along with his range from the three-point line make him a good offensive weapon and if he keeps this up he may get called a draft day steal.

Donovan Mitchell G – SG Utah Jazz
With Rudy Gobert out for an extended amount of time, the Jazz are looking towards
Donovan Mitchell to give the offense a boost. On the season he is averaging 14.9 points,
2.6 rebounds, 2.4 assists, and 1.3 steals. But when you look at his production in the 3 games without Rudy Gobert it increases dramatically. 23 points, 3.6 rebounds 3.3 assists while shooting 52% from the field as well. He is stepping up in a big way for the team as far as production and showing his potential while doing it.
When you look at the Celtics right now and ask why they are 13-2, Jayson Tatum in one
of the reasons why. The Duke product is one of the wing players stepping up big in the absence of Gordon Hayward. He is consistent on offense giving the team 14 points and
5.7 rebounds per game. His shooting is on point too, with 50% from the field and 48% from three. He is definitely an effective player and may one day become the number one option on offense. With a player like him on the team, the Celtics will be a contending team for a long time.
With these rookies performing the way they are it will be fun to see if they can keep it up through the season, or if another rookie starts to make some noise.